See the latest modern office design products from our leading manufacturers
A Glimpse into the New Mayer Fabric Patterns
Innovative and Beautiful
The Definition for the New Mayer Fabric Patterns

This month, Knak is proud to feature a new set of patterns from Mayer Fabrics. You'll find an impressive array of colors and styles, with the addition of their Carousel, Arcade, Centric, Fanfare, and Arcade fabrics.
Highlights from these beautiful patterns:
​
Carousel - Extremely durable with a bold Circular Crypton® pattern
​​
Arcade - A subtle textural design that can withstand industrial wear and tear. It resembles a tone-on-tone glazing effect
​​
Icon - Coated fabric, Consumer Recycled Polyester · Crypton® with Antimicrobial Silver Ion Technology
​​
Centric - Another beautifully woven circular Crypton® pattern with a multi color grid underlay that provides the illusion of motion across the fabric.
- 2022 Metropolis Likes Award
​​
Fanfare - This features playful geometric patterns in a broad array of multi-colored options. - Finalist 2022 HiP Award
​​
Editor - Tone on tone Crypton, gorgeous textures
What Knak Appreciates About Mayer Fabric
Their Collections Never Fail to Impress
A Legacy of Innovation Matched with Beauty
​
A 125 Year legacy says a lot. Mayer never fails to impress. With a slew of new product offerings that are both, as our subline reads, innovative and beautiful, all fabrics coordinate, offering a timeless nature- it really doesn't matter when they came into production.
​
As Mike Varljen described at his recent trip to NeoCon 2022, "Mayer's new line is simply an incredible line of new fabric laced with technology with a hand like you've never seen with this level of performance".
​
Commitment to Sustainability
We are also impressed with Mayer Fabrics ongoing commitment to sustainability which has and will always remain a core consideration throughout their entire development process of their textiles.
​
Pricing That Impresses
Leading-edge design often implies a premium price point. Not with Mayer. Check pricing on these new collections. You'll be pleasantly surprised.
Mike Skarr, CEO, Knak Group (left)
Mike Varljen, National Sales Manager, Mayer Fabrics
(right)
2022 NeoCon Convention
Here is a fun 6.5min video we created at NeoCon 2022 giving a tour of many of these fabrics featuring Mike Skaar, Knak Group, and Mike Varljen of Mayer Fabrics.
Celebrating 125 Years
It was in 1897 that Mr. George L. Paetz started the George L. Paetz and Sons company to fill a need for local suppliers and provide products to manufacturers of custom design buggies and repair.
In the early 1990's the company transitioned to a supplier of fabrics and also upholstery and vinyl applications.
​
In 1961, Harold C. Paetz and Richard F. Mayer, Sr. assume ownership and the key management responsibilities for the company. Fast forward to 2022 and you will find the Mayer family is deeply committed and involved in all aspects of the company.
Introducing the New MPS Collaire
We are thrilled to introduce to you the new Collaire acoustics solution from MPS!
Why Knak Is Excited About Collaire...
​
Collaire is designed for performance, sustainability, and customization. It's colorful, geometric, and it's quiet. Furthermore, it can turn any wall into a blank canvas with total design flexibility. Specify an array of tiles within a space and form a pattern, or go floor to ceiling for a custom architectural wall-cladding look, while also providing acoustic performance.
​
​
Why Collaire Impresses Us at Knak...
​
The options are limitless with patterns, wall and panel creations, and over 30 color choices and textures to choose from.
Choose from 30 available colors and textures

Custom designs to enhance your workspace

Standard dimension: 10" x 30" Tiles

Measurably improves visual and acoustic privacy

Sound absorption and blocking

Ambient noise reduction within the room

Reduced reverberation and echo

Easily disinfected and cleaned

Easily installed
​
If you would like more details about MPS Collaire, please click on this contact form link.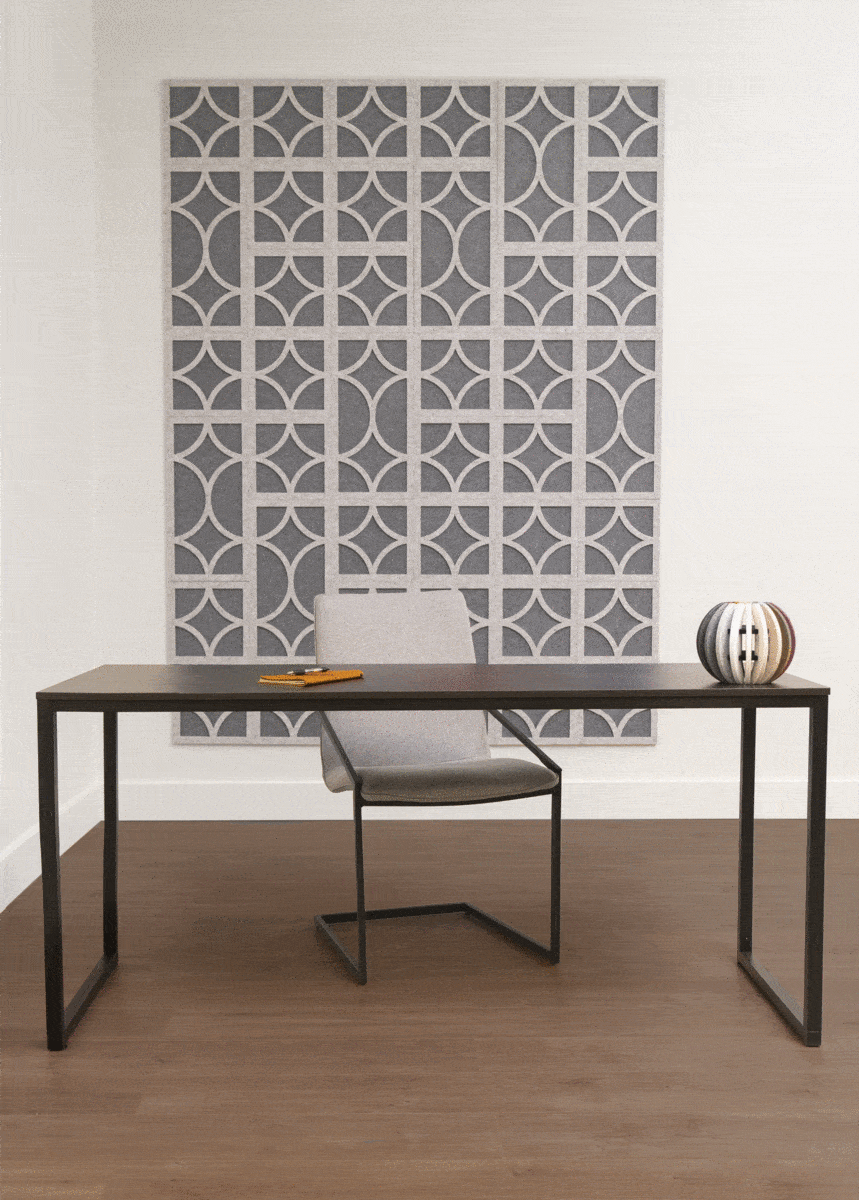 Evolution of MPS
MPS stands for "Making Privacy Simple." MPS's roots are in acoustics and sound masking technology. Founder and CEO Bruce Davidson founded MPS based on his expertise in sound masking technology leading to a natural evolution into design-oriented acoustic panels.
​
Fast forward from days of the Pandemic to 2022 with new branding, positioning and a new MPS president.
Andy Vawtner
President, MPS, LLC
Introducing MPS New Brand and Positioning Evolution... and it's newly promoted President
​
In Q4 2020... The Making Privacy Simple (MPS) leadership team agreed that it was time to evolve the brand and positioning of the company. Like many organizations during the pandemic,
At the time, Andy Vawtner (current MPS President), held the role of SVP Sales & Operations, and had the hindsight to speak up and say "We needed to strengthen the company by diversifying our product offerings and move fast." Vawtner continued "We had offered panels for a few years now, and the results of this additional focus signaled that it was the right move."
​
MPS was forced to re-evaluate the business model, product lines, marketing, etc. In short, everything was on the table. During this time, MPS began to develop the smaller, but ever-growing, acoustic baffle and panel segment of the business, and started to see immediate growth.
​
2021... Based on the success from prior years, MPS launched a branding initiative in January of 2021 uniquely positioning the company as a leader in both sound masking technology and in acoustic panel design. The new MPS brand is a direct reflection of the company's commitment to elegant design that is refined, precise, and also fun. This rebrand is an outward vision of the passion and expertise that its employees have embraced for years.
​
Related Reading... MPS's newly promoted president, Andy Vawtner is interviewed with Knak's CEO, Mike Skaar, on the topic of Acoustic Design for Hybrid Workspaces. Follow that discussion here.
About
MPS with headquarters in Richardson, TX, designs, develops, and also hand-creates beautiful acoustic panel products. Their team of designers and sound engineers makes privacy simple by designing solutions that reduce unwanted noise through both masking and dampening.
​
The MPS brand is dedicated and committed to making spaces more productive and quieter while enhancing the design aesthetic through a range of ceiling, wall-mounted, and free-standing acoustic products.
Please click on this contact form link to learn more about MPS and all of their acoustic products.
Knak Group Goes to NeoCon 2022
Two days of NeoCon are complete. Chicago weather has been wild (tornado warnings and 100 degree heat). The crowds have been huge at North America's largest design exposition and conference for commercial interiors. There has been a palpable exuberance as everyone returned to The Merchandise Mart after almost a two year hiatus. The Knak Group met with many old friends, made some new ones, and had the privilege of winning a special award ourselves. We also threw a fabulous birthday party at Sidetracks for David Meckley. (We Vogued!) What follows is a rundown of everything we were able to capture from NeoCon 2022!
​
Award Winners
Let's start at the end of the story. If you've been to The Mart, you know the epic scale of it all. If you've never been, wearing comfortable shoes is key to seeing everything- this was the largest building in the world when it opened in 1930. Three of our manufacturers were present in The Mart (and two were offsite and therefore ineligible for a Best of Award). Halcon, Muraflex, and Mayer Fabric each had innovative, awe-inspiring products as finalists in the Best Of NeoCon Awards. Here are the winners.
Halcon Helm Wins Best of Competition
The single most prestigious award given at NeoCon is the Best of Competition. All of the judges who hand out hundreds of awards need to all agree on one, single, solitary introduction that embodies the very best of innovation and design among all of the entrants. This year, for an unprecedented third time in a decade, Halcon once again received this single, top award for their stunning Helm adjustable table. Designed with jehs+laub, Helm is sleekly integrated with technology and unexpectedly equipped with an adjustable-height surface. Helm exudes and respects a classic, timeless mid century design but enables it with technology to adapt to a changing workplace. A powerful statement as a desk or board room table, it also won two additional Gold Awards at NeoCon - for Adjustability and Conferencing.
1/1
Muraflex Zitto Wins Sustainability Award
The architects and interior designers that Knak Group has the privilege of working with are unwavering in their insistence for sustainable products. The Neocon judges singled out the Muraflex Zitto privacy pod for a level of sustainability unparalleled in the industry. This product comes in the Uno or the Due, a freestanding single or dual pod encapsulating you with a quiet, deep-focus private space whether you're looking for productive closed meetings, a quick phone call, or a last-minute brainstorming session. But what does sustainability even mean with the Zitto?
The insulation is made of recycled denim

The combined electric components for electrical and ventilation in the pods are all energy saving equating in energy consumption to one lightbulb

The glass and aluminum are 100% recyclable

The glass walls let natural light in.

It uses elements such as the door from other product lines optimizing the product lifecycle

The materials used in the pod are eco friendly. The textiles are made of biodegradable materials.

Our products our designed with the well-being and mental health of its occupants in mind, and we include an ADA solution.

Double glazing for superior acoustics- we are the only dual glaze standard product offering.
Joe Fitzpatrick in the Due - Executive Vice President - Architype
The Muraflex team wins Best of NeoCon - Sustainability
Mike Skaar (L) and Fernando Petreccia (R) - President & CEO - Muraflex
Mike Skaar (R) and Diana Matteson (L) West Coast Regional Manager - Muraflex
Mayer Fabric Wins Metropolis Likes Award
​
The editors from Metropolis magazine gave 38 awards at this year's NeoCon 2022. These products represent the very best in responsible innovation: a great hand, beautiful and patterns, while being sensitive to the impact on the planet and its ecologies. Mayer Fabrics new "Centric" line was a winner! Mike Varljen, the National Sales Manager - Mayer Fabrics, goes over our new introductions in the video below, including Centric and all of the new Mayer Fabrics.
Mayer Fabric is a Finalist for HiP* and Best of NeoCon 2022
Mayer Fabric introduced the new Fanfare design. After 125 years as a leading designer and manufacturer of the industry's best fabrics, they still haven't lost their sense of playfulness with this geometric pattern available in a broad range of fresh, updated, multi-colored options. We are so proud of Mayer for having Fanfare listed as a finalist for both the HIP Award and the Best of NeoCon 2022.
*Interior Design's HIP at NeoCon Awards is a recognition program honoring industry people and innovative products. This unique initiative honors commercial industry pioneers and achievement in product design.
Wilkhahn Yonda Chairs Wins a RedDot Award
​
The name says it all - Yonda is derived from "Beyond," because Wilkhahn sees this new chair range as "beyond." This chair is truly groundbreaking in its approach to sustainability, comfort, and design. Since Wilkhahn is not in The Mart, they enjoy awards from other prestigious competitions. This year, the Yonda chair won a Red Dot product design award!
​
To see more about the Yonda chair, scroll down to our Knak Knews May segment.
We encourage you to watch the replay of the livestream below from their Chicago showroom at Tree Studios to get an inside look as to why this chair is so impressive.
​
Knak Groups wins the Halcon Covid Crusher Award
Possibly the biggest surprise for Knak Group was learning we won the Halcon Covid Crusher Award. We wish it had something to do with eradicating a virus, but we are humbled it actually had to do with how successful we were in bringing Halcon products to some of the most important commercial interior projects in the Northern California region over the last year.
Ben Conway (L) President - Halcon, Mike Skaar (R)
Sheen Frana (R) Project Manager - Halcon
Bill Hildebrand (L) National Sales Director, Mike Skaar (C), Sheena Frana (R)
Happy Birthday, David
This year marks the 20th anniversary of David throwing his birthday party while at NeoCon. It was especially poignant being at Sidetracks in Chicago since this is where he really came of age when it was one room with a video screen over the front door. Now, it's a multilevel, multiroom club, bar, and lounge. David isn't the only thing that has come a long way! Friends new and old gathered for this festival and hilarious love fest Sunday evening. We all owe a great deal to David for what he has done for our industry. We are grateful to everyone who made an appearance to raise a toast, have a dance, and wear a face mask from the David of Years Past collection.
Replay the Live Streams
In case you didn't know, we were live streaming directly from NeoCon. If you follow Mike's LinkedIn account, you were getting alerts each time we went live. It was an incredible way to get up close and personal with the products we love and the people who bring them to us. Major kudos to Mike Varljen who gave us a tour at Mayer Fabrics and Alistair Simpson who gave a tour of the latest Wilkhahn products from their beautiful showroom at Tree Studios in River North.
In addition to products, while at the Sandow ThinkLab Sustainability Lab, Mike had an opportunity to share some important details on sustainability being tackled by the non-profit Philanthropy by Design (www.pbd.org).
Knak is excited to introduce the new Wilkhahn Yonda chair -
Beyond the ordinary!
​
To appreciate the all-new Yonda chair, you have to know its name is inspired by "beyond."
​
Innovation
Neunzig°design studio's innovative office chair really does go that extra mile. The Yonda family of comfortable chairs comes with a large host of design options to meet the needs of both residential homes and office workplaces. The seat cushioning also boasts a distinctive Y-shaped depression, a reference to the first letter of its name.
​
Contemporary Design
The sculptural-looking armrests curve downward at the front. The biocomposite seat shell of this office chair creates a lightweight appearance. But it doesn't stop there. Its design, materials, and also surface finishes reflect a circular economy contemporary concept.
Comfort
Custom upholstery is optional, if you opt-out of it you will still have one of the most comfortable office chairs on the market. Furthermore, add a felt pad, seat cushioning, or padding on the inside, and you will surely be further impressed.
​
Options
In addition to six colors and four upholstery options for the seat shell, Yonda offers four frame variants making the chair an extremely versatile furniture choice. The choice ranges from an appealing four-leg frame made of solid wood, or upi can choose the robust tubular steel option. For extra dynamic comfort, choose the optional 3D rocking capability. Yonda is ideal for dining rooms, cafeterias, meeting rooms, home offices, or even as a nice upholstered, bench-type workspace.
Intrigued? Visit our Yonda Chair page by selecting Learn More!